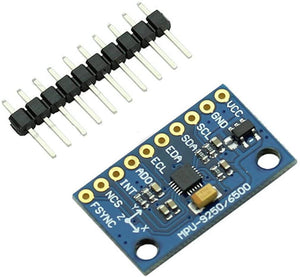 MPU 9250 / MPU 6500 Gyro & Accelerometer & Compass
Tax included.
Shipping
calculated at checkout.
---
---
The MPU9250 is the newest 9-axis MEMS sensor by InvenSense. Improvements include, lowered power consumption and decreased the size by 44% compared to the MPU-9150. "Gyro noise performance is 3x better, and compass full scale range is over 4x better than competitive offerings." The MPU-9250 uses 16-bit analog-to-digital converters (ADCs) for digitizing all 9 axes.
Triple-axis MEMS gyroscope with user-programmable full-scale range of ±250 dps, ±500 dps, ±1000 dps, and ±2000 dps
Triple-axis MEMS accelerometer with programmable full scale range of ±2g, ±4g, ±8g, and ±16g
Triple-axis silicon monolithic Hall-effect magnetic sensor with full scale measurement range to ±4900 µT
I2C at up to 100 kHz (standard-mode) or up to 400 kHz (fast-mode) or SPI at up to 7 MHz for communication with registers
On-board digital motion processor (DMP)
Digital-output temperature sensor
---
We Also Recommend